Top 10 WR Recruits of Past 20 Years
Comments
Now that national signing day has arrived, we finally have gotten an answer about the destination for top overall recruit Dorial Green-Beckham, a man-child wide receiver who chose to play at Missouri.
So let's look at the Top 10 wide receiver recruits in the last 20 years based on their high school production and raw athleticism that had scouts drooling.
Oh yeah, DGB made the list, but who joins him?
Note: Ted Ginn Jr. (CB), Anquan Bolden (QB), Hines Ward (QB), Derrick Williams (QB) not included because primarily played other positions in high school.

.

T-10. Fred Rouse: Lincoln H.S. (Tallahassee, FL), Class of 2005
Rouse said that he would consider becoming the first-ever player to go straight from high school to the NFL if the rules permitted. He only had 600 yards receiving as a senior but was compared to Randy Moss, the go-to standard for prep WRs, and was ranked the sixth-best recruit in the entire 2005 class by Rivals.  The Tallahassee native bounced from FSU to UTEP to Concordia College in Selma, AL. Rouse was signed by the UFL's Omaha Nighthawks prior to the 2011 season but didn't make the team. Oops.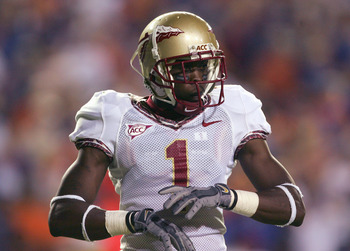 .
T-10. Patrick Turner: Goodpasture H.S. (Madison, TN), Class of 2005
At 6-foot-5, 220 pounds, Turner had insane size. No wonder he was the No. 2 overall recruit and the top wide receiver in nation, according to Rivals.com. ESPN's Tom Lemming agreed that Turner was the best pass-catcher in the 2005 class, where he was a consensus top-five overall player throughout the recruiting services. The man was a touchdown machine in high school, hauling in 36 scores through the air. He was good but not great at USC and is currently a reserve for the New York Jets.

.
9. Whitney Lewis: St. Bonaventure H.S. (Ventura, CA), Class of 2003
We can hear you from here: "Whitney who?" Many people have forgotten the California prep legend (warning: Language is NSFW) who became the first player in state history to go over 1,000 yards in rushing and receiving in a season. As a senior, he had a total of 45 touchdowns in one season alone, 16 of which came through the air; he scored every 4.5 times he touched the ball and was like a tank rolling through a high school field at 225 pounds. Ranked third overall in the Class of 2003 by Rivals behind a guy named Reggie Bush, Lewis flamed out at USC and did little after transferring to Northern Iowa.
.
8. A.J. Green: Summerville H.S. (Summerville, SC), Class of 2008
Yeah, we know that Green was an All-SEC performer at Georgia, fourth overall pick in the 2011 NFL draft and a Pro Bowl participant after his rookie season. That wouldn't surprise those that followed Green in high school. He put up video-game numbers, compiling 279 catches and 5,373 yards to author some of the greatest prep stats of all time. He also heard comparisons to Moss and was ranked the second overall WR recruit in his class and ninth overall player, according to Rivals.com. As it turned out, that was conservative if Green's debut campaign with the Cincinnati Bengals was any indication of his future.
.
7. Amani Toomer: De La Salle H.S. (Concord, CA), Class of 1992
Toomer helped put De La Salle High School in Concord, CA, on the map, and that's a significant legacy because the school has been a football factory over the years. But Toomer was the first national recruit in the school's history as a USA Today and Parade All-American. The No. 1 recruit in the nation according to SuperPrep, his stats weren't great because his team didn't throw much but the hype around his size and tools got so out of control he was compared to the local Jerry Rice. He went on to star at Michigan and with the New York Giants, winning a Super Bowl in 2008.
.
6. Percy Harvin: Landstown H.S. (Virginia Beach, VA), Class of 2006
Harvin was one of the great high-school athletes in the history of the Hampton Roads area of Virginia. His successes dates to his time as a six-year-old flag football player, prepubescent track star and Pop Warner national champion. In high school football, he only had 75 career catches but scored 77 career touchdowns with his 4.3 speed. That's why he was the top recruit in the nation in 2006 ahead of the likes of Matthew Stafford. Harvin lived up to the hype at Florida and has since made the Pro Bowl with the Minnesota Vikings.
.
5. Reggie Williams: Lakes H.S. (Lakewood, WA), Class of 2001
Lemming rated him fourth in the entire Class of 2001 behind Joe Mauer, Brodie Croyle and Kevin Jones. When you are 6-4, 225 and catch 16 TDs, run for seven more and have eight interceptions as a senior, that tends to happen. He was compared to (guess who?) Moss and lived up to the billing at Washington before fizzling out of the NFL. He was signed by the Seahawks in 2010 but was cut by the team.
.
4. Julio Jones: Foley H.S. (Foley, AL), Class of 2008
During his rookie season with the Atlanta Falcons last fall, a "Sunday Night Football" broadcast showed Jones' pregame routine of snatching passes out of the air with one hand as if he were plucking fruit off the highest tree in the yard. Translation: He's a physical freak with an uncanny combination of size and speed. That was obvious even in high school when SI.com ranked him the No. 1 player in America after putting up great high school stats (194 career catches for 3,287 yards and 43 touchdowns) and drawing comparisons to Terrell Owens. Yeah, he turned out OK.
.
3. Charles Rogers: Saginaw H.S. (Saginaw, MI), Class of 2000
It's too bad that Rogers is known for being one of the Detroit Lions' many draft busts over the last decade because he was one of the best talents in the history of Michigan. Compared to Moss for his size (6-3, 220), Lemming ranked him the No. 1 recruit in the nation after 126 career catches for 21.0 yards per catch and 39 TDs. He was also a blazing (no pun intended) track star who ran a 4.4 40. If there was ever a can't-miss prospect, Rogers appeared to be it. He was awesome at Michigan State but a colossal NFL bust that couldn't stay out of trouble off the field.
.
2. Dorial Green-Beckham: Hillcrest H.S. (Springfield, MO), Class of 2012
Yet another incredibly gifted wide out who has been compared to Moss, DGB put up high-school numbers that would make Moss blush. The top recruit in the entire nation finished his high school career with a national-record 6,447 receiving yards, including 2,234 to go with 119 catches as a senior. The recruiting process for the 6-foot-6, 220-pound man-child could best be described as extended groveling. Missouri coach Gary Pinkel showed up in a helicopter to recruit him and Tigers fans practically begged for him. Need we say more?
.
1. Randy Moss: DuPont H.S. (Belle, WV), Class of 1995
Words don't do justice for what Moss was like in high school. Lemming, who has been scouting prep stars since 1978, said he's the best player Lemming ever saw ahead of Jeff George, Marcus Dupree, Adrian Peterson and John Elway. Moss finished his high school career with 109 catches for 2,435 yards and 44 touchdowns. Yes, that means he averaged 22 yards per catch and scored on almost every other reception. After trouble had him bounce from Notre Dame to Florida State to Marshall, we all know how he turned out: Nearly winning the Heisman Trophy at Marshall, becoming a future NFL Hall of Famer and metaphorically mooning anyone that got in his way.
.

&nbsp