QB Dayne Crist Joining Weis at Kansas?
Comments
With the news that Charlie Weis is the new coach at Kansas, it doesn't come as a real surprise that he may reunite with quarterback Dayne Crist.
According to The New York Times, the Notre Dame quarterback will visit Kansas on Saturday morning.
Weis, who is leaving his offensive coordinator job at Florida, was the coach at Notre Dame from 2005-09. Crist, set for a transfer from South Bend, was recruited by Weis and spent his first two seasons playing for him. Crist is graduating from Notre Dame and will be able to play next fall for anything FBS school. Two other possible destinations are Wisconsin and UCLA.
Under Weis, Crist was projected for a prolific career and had NFL aspirations. A knee injury in 2009 slowed him down; he injured the knee again in 2010, returned this season but lost his starting job to Tommy Rees.
It's possible that Weis and Crist - both trying to get back on their feet - need each other.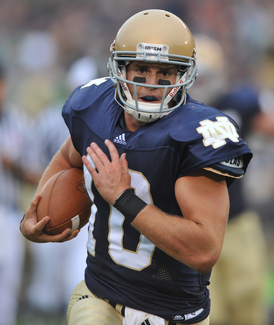 &nbsp