CFB's '02 Top 25 Recruits: Where Are They Now?
Comments
It's always fun to take a look back at prognostications after enough time has elapsed for them to be proven right or wrong. So with National Signing Day approaching, we examined Tom Lemming's Top 25 players from college football's 2002 recruiting class, featuring Vince Young and Maurice Clarett, to see where those recruits of the past are a decade later and how they fared.
Note that only eight players on this list are currently in the NFL.
.
1. Ben Olson (BYU, QB)
The "Next Troy Aikman" had a circuitous path through college football. After a two-year Mormon mission, Olson decided to transfer from BYU to UCLA but was hurt almost his entire time as a Bruin. He finished his college career with 12 TDs and 11 INTs and now works at an internet marketing firm in Utah called OrangeSoda.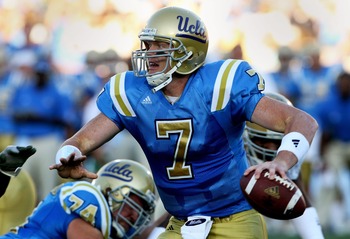 2. Maurice Clarett (Ohio State, RB)
Clarett rushed for 1,237 yards, a school-record for freshmen, and 18 touchdowns as a frosh, leading the Buckeyes to the '02 national title. He then was dismissed from Ohio State and unsuccessfully challenged the NFL's draft-eligibility rules. A bust with the Broncos once he was eligible, Clarett then spent almost four years in prison. Currently, he's a member of the UFL's Omaha Nighthawks.
3. Lorenzo Booker (Florida St., RB)
Likened to Barry Sanders out of high school, Booker never lived up to the billing at Florida St. having never rushed for over 1,000 yards. He is currently a back-up for the Minnesota Vikings.
4. Vince Young (Texas, QB)
You may have heard of him. Young became "Superman" at Texas, leading them to a Rose Bowl victory after the 2004 season and a national title a year later. ESPN ranked him the 10th greatest college football player ever. Selected third overall in the '06 draft, Young has had an up-and-down career and is now a back-up for the Eagles.
5. Gerald Riggs Jr. (Tennessee, RB)
A 1,000-yard rusher for the Vols, Riggs Jr. - the son of a three-time Pro Bowl running back of the same name - was injured during his senior year. He went unselected in the following spring's draft and spent time on NFL practice squads and in NFL Europe before landing in the CFL in 2011. He most recently was a member of the CFL's Toronto Argonauts.
6. Ahmad Brooks (Virginia, LB)
Brooks was a star at Virginia, where made an immediate impact with 117 tackles as a freshman. He was a Butkus Award finalist as one of the best linebackers in the country as a sophomore. But dismissed from the team as a junior, he ended up in the 2006 supplemental draft. Now he is a member of the San Francisco 49ers and is a starting linebacker for one of the best defenses in the league.
7. Reggie McNeal (Texas A&M, QB)
McNeal was a starter for the better part of his final three seasons after coming off the bench as a freshman to throw four TDs in a win over No. 1 Oklahoma. He played for the Cincinnati Bengals in 2006 but since has been in the CFL, where he was a member of the Edmonton Eskimos in 2011.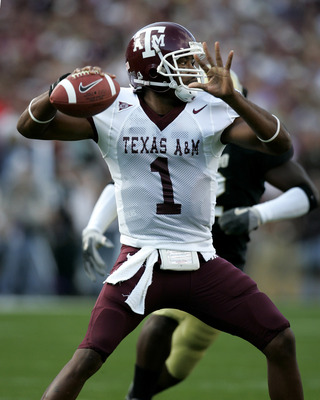 8. Haloti Ngata (Oregon, DT)
The massive man in the middle dominated at Oregon and was the 12th overall pick of the 2006 NFL draft. He's widely regarded as the best defensive tackle in the NFL and is headed for his fourth straight Pro Bowl.
9. Tyler Palko (Pittsburgh, QB)
A Pittsburgh native, Palko had a solid career with his hometown Panthers. He threw for 8,343 yards with 66 touchdowns during his tenure. However, he was not selected in the 2007 NFL draft before spending time in the UFL and CFL. This past season, he played in six games for the Kansas City Chiefs after an injury to starter Matt Cassel.
10. Larry Dibbles (Texas, DL)
In 41 career games, Dibbles had 107 tackles and 2.5 sacks - not exactly living up to his promise heading into college. The younger Dibbles wasn't drafted and ended up last season on the roster of the Indoor Football League's La Crosse Spartans.
11. Eric Winston (Miami FL, TE)
Winston was recruited as a tight end by the Hurricanes. However, he moved to offensive tackle and was named an All-American at the position in 2005. He injured his ACL during his junior season at Miami (FL) but still was drafted in third round by the Houston Texas, for whom he still plays.
12. Mike D'Andrea (Ohio State, LB)
D'Andrea was a highly touted linebacker out of Avon Lake, OH, but had to contend with fellow star OSU LBs Bobby Carpenter and A.J. Hawk. Injuries also derailed his career. As such, he never panned out as an NFL prospect but has still landed on his feet. D'Andrea owns TRAQ 3D, a gym in his hometown that helps with athletes' development.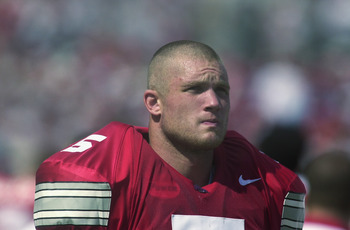 13. Kai Parham (Virginia, DE)
We know those Virginia guys set themselves up for life after football. Parham is no different. The First Team All-ACC performer graduated early from UVa in 2005 before getting a Master's degree from USC. Currently, he's a sports talk radio host and producer at USC radio station, KXSC.
14. Chris Davis (Florida State, WR)
A steady and consistent threat for four seasons at Florida State, Davis is 14th in career receiving yards at the school with 1,770, trailing Anquan Boldin by just 20 yards. He played for the Tennessee Titans from 2007-09 and now is a member of the UFL's Omaha Nighthawks.
15. Gavin Dickey (Florida, QB)
It just wasn't meant to be for Dickey as a quarterback at Florida, where he never quite settled in under center. Dickey spent some time at running back, wide receiver and QB before embarking on a professional baseball career in 2006, when he was drafted by the Seattle Mariners in the 12th round. In 2011, he was at Class AA Mississippi in the Atlanta Braves' organization.
16. Trent Edwards (Stanford, QB)
Stanford posted just a 10-20 record in games that Edwards started. But the quarterback was deemed a top prospect for NFL scouts heading into the 2007 draft. He was selected by the Buffalo Bills in the third round. He played for the Bills and Jacksonville Jaguars from 2007-10 and was released by the Oakland Raiders prior to the 2011 season after an underwhelming career.
17. Ryan Moore (Miami FL, WR)
Moore had a solid start to his college career with 44 catches as a redshirt freshman, but an injury and a run-in with the law in 2006 helped derail what was supposed to be a promising career for the wide receiver.
18. James Banks (Tennessee, QB)
Banks had all the tools as a dual-threat quarterback for the Vols, for whom he eventually became a wide receiver. He led the Vols in receiving as a sophomore but eventually was booted from the team in 2004. Banks landed at tiny Carson-Newman College in Tennessee, where he continued as a receiver but never made it to the NFL.
19. Rodrique Wright (Texas, DE)
A member of the 2005 national championship team at Texas, Wright was the 2002 Big 12 Freshman of the Year and First Team All-Big 12 as senior - a season capped with a title thanks in part to the No. 4 player on the list. He played for the Miami Dolphins (2006-08) and with the CFL's Saskatchewan Roughriders (2010-11) but currently is a free agent.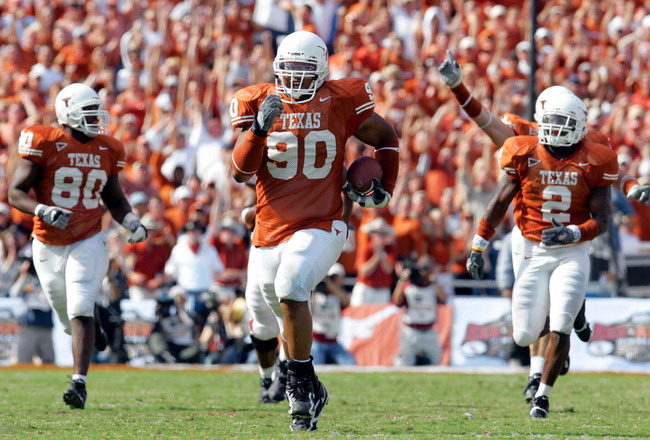 20. Kedric Golston (Georgia, DL)
Golston had 95 tackles and 3.5 sacks in 44 games for the Bulldogs, for whom he was underwhelming in comparison with his expectations. Still, Golston was drafted in the sixth round by the Washington Redskins, for whom he still plays. His 2011 season was cut short due to a knee injury.
21. Pat Watkins (Florida State, DB)
A four-year contributor for the Seminoles, Watkins was honorable mention All-ACC as a senior free safety.  He was a fifth-round selection by the Dallas Cowboys, for whom he played from 2006-10. He last was a member of the San Diego Chargers - also during the 2010 campaign.
22. Travis Leitko (Notre Dame, DL)
Touted as a talented defensive end, Leitko never was the impact player he was expected to be with the Fighting Irish. He spent a lot of time on special teams and never made it to the NFL. According to his Facebook page, the native of The Woodlands, TX, currently lives in Greenville, SC.
23. Gabriel Watson, (Michigan, OL)
A First Team All-Big Ten performer in 2004 and 2005, Watson was a member of two Rose Bowl teams with the Wolverines on the D-line. He then was a fourth-round NFL draft pick and played with the Arizona Cardinals from 2006-10. Watson was on the New York Giants' preseason roster but was cut prior to the 2011 season.
24. Buster Davis (Florida State, LB)
Davis was selected First Team All-ACC and Second Team All-American for the Seminoles in 2006. He then was drafted in the third round of the following spring's draft by the Detroit Lions. He played for the Lions and Colts before heading to the UFL, where he was a member of the Hartford Colonials in 2010. He also served as an assistant coach at South Dakota in 2011.
25. Nick Turner (Mississippi State, RB)
A talented rusher who shared Mississippi State's backfield with future NFL player Jerious Norwood, the Atlanta native was shot and killed in his hometown in 2010. Turner was never able to get his football career on track after getting booted off the Bulldogs' team and finishing his career at Murray State.
&nbsp