In light of Alabama's incredibly dominant defensive performance this season that finished with Monday's 21-0 shutout of LSU in the BCS Championship Game, let's look at college football's top defenses of all time based on stats, the unit's overall legacy and effect on a team's season.
.
10. 2008 USC

When you think about USC's success under Pete Carroll, star quarterbacks and big-play offenses come to mind. But Carroll is a former defensive coordinator and his '08 Trojans had a nasty unit. Current NFL linebackers Brian Cushing, Clay Matthews and Rey Maualuga (all pictured) anchored a D that posted three shutouts – and blanked five other opponents after halftime. But who did they play? Well, high-powered Oregon, which averaged almost 42 points per game that season, managed just 10 in a 34-point loss. The Trojans posted a 12-1 record and Rose Bowl win over Penn State. A 27-21 loss to Oregon State is the only thing holding this group back.
.
9. 1959 Syracuse
The Orange won the 1959 national championship thanks in part to a stout defense that provided some eye-popping statistics. It shut out five teams and allowed just 59 points for the season; that's like one game for Baylor or Washington this year. The 'Cuse also had some incredible single-game performances – like the 25 yards of total offense allowed to Boston University. Most people will remember RB Ernie Davis, the Heisman Trophy winner that season, helping 'Cuse gallop to the national title. But don't forget the Orange's big, bad D. We dock them a little bit for lack of competition like Colgate, Boston U. and Holy Cross.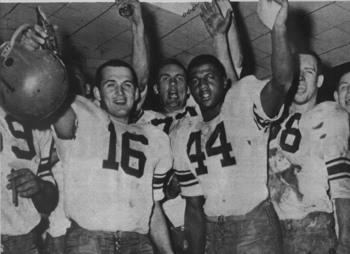 8. 2001 Miami (FL)
When your secondary has Ed Reed and Phillip Buchanon, linebackers include D.J. Williams and Jonathan Vilma, plus a line with NFL first-round picks Jerome McDougle and William Joseph, that's half of an NFL defense. Williams' move to his natural position paid off in 2001, when "The U" allowed seven combined points to ranked opponents Washington and Syracuse in November, then held Nebraska and Heisman winner Eric Crouch to just 14 in the Rose Bowl to win a national title. Heck, the 'Canes' defense accounted for as many points that night (seven) as the Nebraska offense.
.
7. 1992 Alabama
Just like this year's team, the '92 Crimson Tide will be remembered for their big-play defense. Defensive back Antonio Langham, whose interception was the inspiration for the ESPN documentary entitled "The Play that Changed College Football," won the inaugural SEC Championship Game with the aforementioned pick-six. In the ensuing Sugar Bowl, 'Bama's George Teague stripped Miami (FL) receiver Lamar Thomas of the ball on what would have been a long TD catch. The Tide's defense went on to lead them to a 34-13 rout of the high-powered 'Canes and gave up more points just twice that season.
.
6. 1985 Oklahoma
Brian "The Boz" Bosworth (pictured) remains one of this defense's memorable characters, but don't forget about nose guard Tony Casillas and defensive end Kevin Murphy. All you need to know about the '85 Sooners D? They sent a message with a 27-7 throttling of No. 2 Nebraska, which didn't score on offense and rushed for just 161 yards – less than half the average total from Tom Osborne's run-heavy attack. The defense then carried the Sooners to a national title with a 25-10 victory over No. 1 Penn State in the Orange Bowl. The defense gave up a total of 28 points in the last seven games, making an early-season 27-14 loss to "The U" an afterthought.
.
Pages: 1 2